Fashion, clothing and textiles
What is it?
American footwear giant Timberland recently launched a new take-back program called 'Timberloop'. Customers are invited to return their used Timberland footwear, apparel and accessories so they can either be refurbished or disassembled and upcycled (remanufactured) (Timberland, 2022).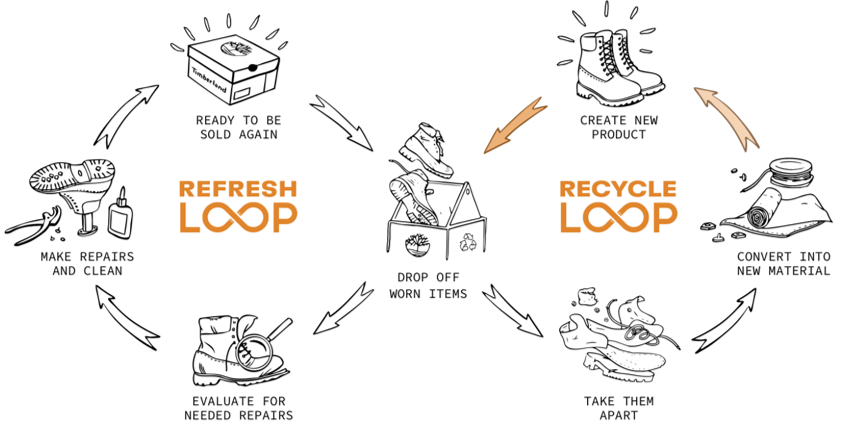 Image courtesy: Timberland, 2022
Why is this important? The fast fashion industry is one of the most polluting industries in the world (Allwood et al., 2006). By exploring circular business options, Timberland is contributing towards reducing virgin resource extraction rates, and ensure materials stay in the loop longer.
Main resource strategy: Closing the loop by repairing, refurbishing and remanufacturing old products into new products.
Narrowing the loop by reducing the amount of resources that are used to create new products.
Business model aspects:
Value Proposition: Customers can return old Timberland products in any condition to Timberland, and get a discount voucher towards their next purchase. The old products are then given a new life (Timberland, 2022).
Value Creation & Delivery: Customers can drop off old Timberland products in designated drop-off boxes at Timberland stores. Alternatively, they can also send the products using a pre-paid shipping label that Timberland provides (Timberland, 2022).
Value Capture: Customers get a 10% off voucher that can be used in the Timberland stores (Timberland, 2022).
Business model experimentation practices: Timberloop was launched in partnership with ReCircled, a company that has extensive technical and business expertise on the infrastructure and logistical requirements for launching circular business models in the fashion sector (ReCircled, 2022; Segran, 2022). The initiative was first launched in the US, with the intention of expanding to European and Asian markets after success.
Tools, methods and approaches used: Customers will be able to track the path of their returned products as they are repaired and resold, or disassembled for upcycling/recycling, through the digital take-back platform (Roshitsh, 2022). In doing so, Timberland aims to connect customers with the positive environmental outcomes of their actions (Roshitsh, 2022).
Sustainability outcomes: There are no reported environmental benefits yet since the initiative was launched in January 2022, and is still in its early stages. Through this new initiative, Timberland is also exploring future circular product innovation categories, such as shoes that are designed for disassembly (the Timberloop Trekker), use of regenerative leather, etc. (Brooks, 2021; Roshitsh, 2022).
Sources:
Allwood, J., Laursen, S., Rodriguez, C., Bocken, N., 2006. Well dressed? The present and future sustainability of clothing and textiles in the United Kingdom., University of Cambridge Institute for Manufacturing Mill Lane. https://doi.org/ISBN 1-902546-52-0
Brooks, R. (2021). Timberland Announces Global Product Take-Back Program in Partnership With ReCircled. Businesswire. Accessed 09 March 2021 at: https://www.businesswire.com/news/home/20210629005278/en/Timberland-Announces-Global-Product-Take-Back-Program-in-Partnership-With-ReCircled
ReCircled. (2022). Home. Accessed 09 March 2022 at: https://recircled.com/
Roshitsh, K. (2022). Timberland's 'Timberloop' Aims to Be a Triumph for Take-back. WWD. Accessed 09 March 2022 at: https://wwd.com/sustainability/business/timberland-shoes-timbs-takeback-return-resale-recycling-clothing-1235027528/
Segran, E. (2022). Your old Timberland boots can now become your new Timberland boots. FastCompany. Accessed 09 March 2022 at: https://www.fastcompany.com/90711379/your-old-timberland-boots-can-now-be-your-new-timberland-boots
Timberland. (2022). Timberloop. Accessed 09 March 2022 at: https://www.timberland.com/responsibility/timberloop.html
***
About project Circular X
Project Circular X is about 'Experimentation with Circular Service Business Models'. It is an ambitious research project funded by the European Research Council (ERC) which supports top researchers from anywhere in the world. Project CIRCULAR X runs from 2020-2025. The project is led by Principal Investigator (PI) Prof Dr Nancy Bocken, who is joined by a multidisciplinary team of researchers at Maastricht Sustainability Institute (MSI), Maastricht School of Business and Economics, Maastricht University. The project cooperates with businesses who want to innovate towards the circular economy.
Project Circular X addresses a new and urgent issue: experimentation with circular service business models (CSBMs). Examples of such new business models include companies shifting from selling products to selling services and introducing lifelong warrantees to extend product lifetimes. However, CSBMs are far from mainstream and research focused on experimentation is little understood. The research aims to conduct interdisciplinary research with 4 objectives:
Advancing understanding of CSBMs; their emergence and impacts
Advancing knowledge on CSBM experimentation
Developing CSBM experimentation tools
Designing and deploying CSBM experimentation labs
Funding source
This project has received funding from the European Research Council (ERC) under the European Union's Horizon 2020 research and innovation programme, grant agreement No. 850159.
Using this information
When you refer to this case, please use the following source:
Circular X. (2022) Case study: Timberloop – New life for old boots. Accessed from www.circularx.eu